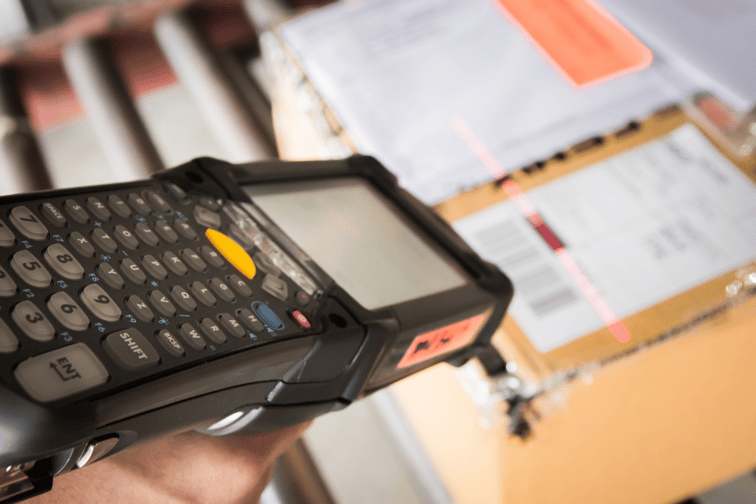 You might have seen a couple blog posts about Warehouse Management System (WMS). If you haven't seen the posts already, please check out the blog posts: 4 Things to Consider Before You Invest in a Warehouse Management System (WMS) & Evolution of NetSuite & Warehouse Management. Also, you might have read my previous blogs about WMS, WAERlinx - Advanced Warehouse Management For NetSuite. I would like to introduce you another WMS, RF-Smart which is being used by many businesses and I want to share their capabilities to track outbound serialization for non-serial item types.
RF-Smart allows you to collect serial numbers for non-serial item types when picking items to fulfill a sales order. The serial numbers are updated to NetSuite as part of the fulfillment process. Note: Only available to use with non-serial or non-lot numbered item types. An item's base unit of measure (UOM) must be the same as the stocking UOM.

Here are things to consider:
This requires changing all of SKUs from serialized items to non-serial item types in Netsuite to outbound serialization.
No visibility into where each serial number is sitting in the warehouse
No option to pick a full case or LPN and capture all serials
This could be VERY helpful if you wish to collect serial numbers for non-serial item types when picking items to fulfill a sales order. To Enable Serial Number Collection, select List from the main navigation, then Accounting and Items to open the Inventory Items list page. Select Edit next to the item you want to update.
Select the RF-SMART tab on the secondary navigation.
Check the box next to Collect Outbound Serial Numbers.
Click Save.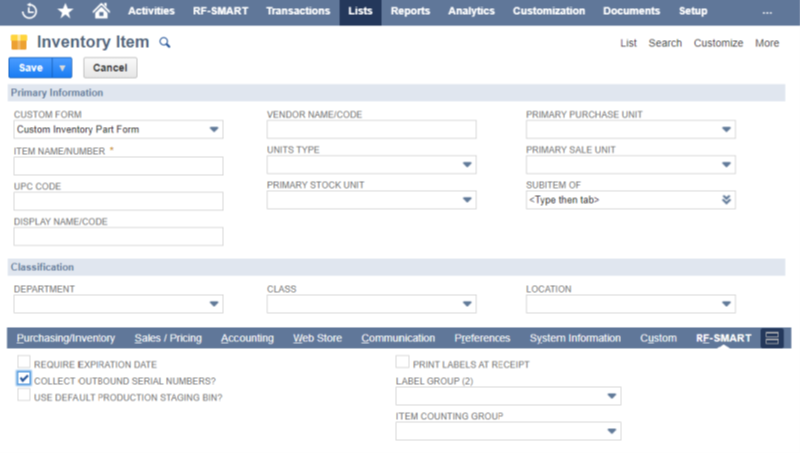 To review Outbound Serial Numbers, you can review the serial numbers collected, and update the records if necessary, through the item fulfillment record or the sales order as shown below. Select Transactions from the main navigation, then Sales, Enter Sales Order, and List to open the Sales Order list page. Select View next to the sales order you want.
Select the Custom tab on the secondary navigation.
Select RF-SMART Outbound Serials.

Many warehouses are still relying on a paper-based picking method to fulfill orders. Warehouse operations can be improved with intelligent pick-and-pack capabilities and a wave-release process, using mobile RF barcode scanning, automating cycle counting and integrating with shipping systems, all of which elevate visibility, accuracy and efficiency. RF-Smart offers industry leading warehouse management functionality. Specifically designed with the warehouse manager in mind, NetSuite WMS functionality is aimed at improving the user experience and warehouse processing operations.
Reduce operating expenses, improve inventory visibility, achieve better labor management and increase customer service by implementing a WMS system. Learn more about how companies are incorporating a WMS into their overall fulfillment strategy. If you want to learn more about how Netsuite and WMS can help your distribution business, contact Concentrus today to discuss your needs.
About Us
Concentrus is a complete NetSuite solutions provider that guides organizations through how to use NetSuite to reach highly focused business goals and objectives. We provide NetSuite implementation, developer, integration, and customization services to ensure that you have a long-term solution that is tailored to fit your systems, people, and processes.
Read About Our Implementation Methodology
Want more NetSuite Tips and Tricks? Check out our Short & 'Suite videos