Every time I implement a new system for a client, whether NetSuite or something else, the first thing we talk about is data.
What type of data you ask? Let's see:
Customer
Vendor
Marketing information
Documents (proposals, non-disclosure agreements, contracts, etc.)
Warehouse
Stores
Financial information (credit cards, ACH accounts, EFT accounts, etc.)
Employee
No matter how many years your company has been in business, you are always collecting data. Your data can tell many stories about where your organization has been and what is on the horizon. But those stories are easiest to decipher when your data is organized in a centralized location and presented in a way that is easy for key stakeholders to connect with.
Now, think about your organization – do you know where all your data is housed?
More importantly, where is the data that can drive your business forward?

Some companies have their data reside in multiple applications. They may love the applications they use, but ultimately decide that having a lot of disparate systems can hinder future.
For example: You may have a robust customer relationship management (CRM) application that is makes it easy for your sales and account management team to track deals and recent interactions with customers and prospects, but it might not connect to the order management platform.
Housing your company information in multiple locations typically leads to manual, duplicate data entry that is very susceptible to human error. If you've ever played the game "telephone" you notice that the first message is almost always different than story the last person hears. The same can be said of manually entering data from one system to another. Having a single, centralized business management system eliminates the need to "play telephone" and automated workflows ensure that all your data is reliable and updated in real-time.
Following the same example with disjointed CRM and order management system, what happens if your manager asks you to determine if the way your leads are being funneled into your CRM has any correlation with the types of items they eventually purchase? With disparate systems, someone on your staff would pull customer information onto a spreadsheet. Then, they would have to manually sort the data to identify each order made by a specific customer and further segment the information by item type. That sounds exhausting – and, not to mention, time consuming! Not only that, but the scenario listed above only works if the following is true:
You know exactly where and when you got the data
All customer data is in the CRM
The customer data is accurate
Items are categorized the way you want it (type, promotions, pricing, etc.)
Now let's consider a scenario where the game of telephone is eliminated, and the user is now working within a single environment - NetSuite. Users can retrieve, create, update, and delete information as necessary and no longer need ask themselves:

How recent is my data?
The data is REAL TIME. NetSuite offers immediate access to data being created and updated as users work within the system. There is no need to wait for someone or another department to finish what they are doing so that you can do your job.


Is my data accurate?
The data is ACCURATE. NetSuite offers several ways to control the collection of data through pre-determined list, automated workflows, and entry field rules.

Can I get the information I need from data to help my organization grow?
Yes! NetSuite allows for customizations and new functionalities are your organization grows and changes.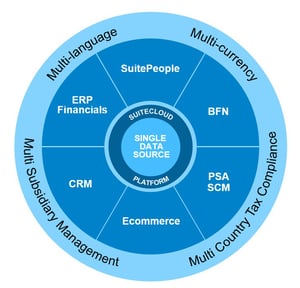 With NetSuite, all the data you need is right at your fingertips. It is a single, unified platform with built-in workflows for all the critical functions for distribution companies including omnichannel commerce, financials, marketing, sales, warehousing, and more. By housing all your company data in a centralized location, your data is accurate, reliable, real-time, and accessible.
For more information about how NetSuite can make all your data woes a thing of the past, download the NetSuite overview brochure.