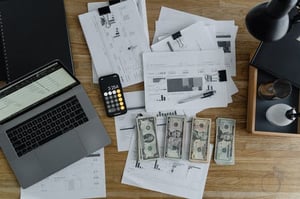 How do you know if you need intercompany transactions: Intercompany Sales Orders and Purchase Orders? Typically if you have multiple subsidiaries that provide goods and services between subsidiaries, you will need intercompany transactions in NetSuite. Many companies use spreadsheets to track the amounts to remove from financial statements so that the revenue or expenses are not double counted when multiple subsidiaries' financial statements are consolidated. NetSuite has native functionality to help record, manage and reconcile these types of intercompany transactions automatically.


Here is what happens in NetSuite when you set up intercompany sales orders and purchase orders between subsidiaries and then use period close to automatically eliminate.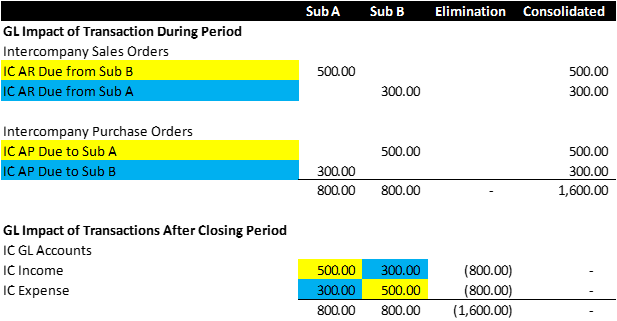 Here are the high level steps on how to set up for intercompany transactions in NetSuite.
Enable Automated Intercompany Management in Enabled Features.
Create intercompany GL accounts. In your GL accounts, mark related accounts as Eliminate Intercompany Transactions.

If you want to eliminate from your Income statement you need to mark Income and Expense accounts.
If you want to eliminate from your Balance Sheet you need to mark Accounts Receivable and Accounts Payable.

Create intercompany customers and vendors.

Set the Default Receivables Accounts or Default Expense Account on the intercompany customers and vendors
Clearly label the entity as an intercompany customer or intercompany vendor.
Mark the Represents Subsidiary checkbox

Create Intercompany Sales Orders and Intercompany Purchase Orders

Go to Transactions à Sales à Manage Intercompany Sales orders Or Transactions à Purchases à Enter Purchase Order

Pair the intercompany transactions

To manually link the transactions, please refer to Intercompany: How to Create a Paired Intercompany Invoice and Vendor Bill, a blog by Sara Duong [Intercompany: How to create a paired intercompany invoice and vendor bill]
To automatically link the transactions, please refer to Generating an Intercompany Sales Order (SuiteAnswers 95232)
Please refer to How to Unpair Intercompany Transactions, a Short and Suite Video by Jesse Guzman Short & 'Suite: How to Unpair Intercompany Transactions

At period or year end closing, run the Eliminate Intercompany Transactions on the period close checklist.
If you need any help or demonstration of NetSuite's Intercompany Transaction capabilities, please call us. We are ready to help.
About Us
Concentrus is a complete NetSuite solutions provider that guides organizations through how to use NetSuite to reach highly focused business goals and objectives. We provide NetSuite implementation, developer, integration, and customization services to ensure that you have a long-term solution that is tailored to fit your systems, people, and processes.
Read About Our Implementation Methodology
Want more NetSuite Tips and Tricks? Check out our Short & 'Suite videos