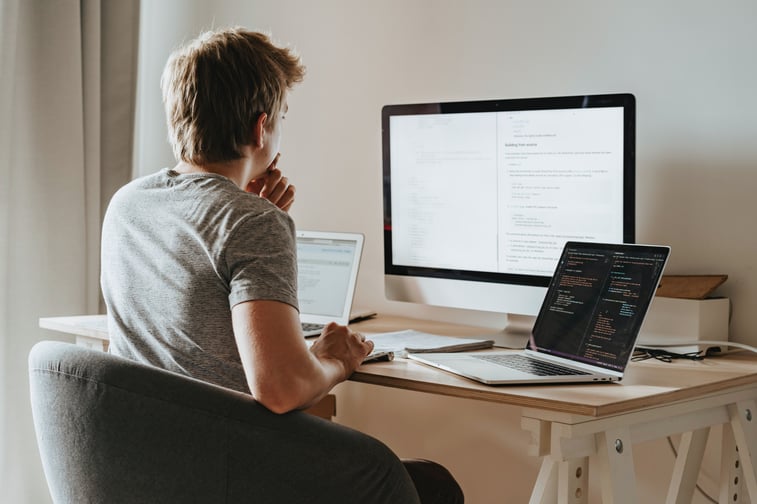 ERP implementation is a significant undertaking for the majority of organizations. ERPs touch every aspect of your business and add value by connecting departments and providing real-time data. And, while ERP implementation should be a top priority, many organizations cannot afford to dedicate a dedicated resource solely to implementation. Furthermore, having a single resource may not be optimal because there are multiple subject matter experts whose expertise should be considered.
Having an implementation partner is vitally important to the success of your ERP implementation. A good cloud ERP implementation partner will guide you through various phases and prepare your new ERP and your team for success.
Each organization may have their own methodology for a successful implementation. The phases described below are what we at Concentrus have found to be very successful. We call our methodology the "Gates of Success."
5 Gates of Success for a Successful ERP Implementation
Alignment

– Understanding your business, your industry, and your processes

to

personalize the solution for your organization.

This is the planning phase where we'll establish communication methods, escalation paths and decision makers for each section of the project.





Solution Roadmap

 – Creating a mutual plan to setup your environment. This step focuses on configuration, data migration/validation, the user interface, preparing for change and most importantly creating a pilot environment which you will get to test drive in the next phase. In this phase we'll identify any gaps and solutions between what the ERP can do natively and what is needed to successfully operate your business.


User Experience

– Making it easy for users to compete their tasks through workflows, customizations, training, and additional configuration. This is the phase where your team will be hands on, taking the system for a test drive while we adjust your ERP to build the perfect system.


Organizational Readiness

– Ensuring our clients are ready for change. This may mean change management, additional training, verifying data, etc. This is where the true gut check happens.


Getting Your Organizational Live

– Monitoring and providing real-time support. Keep in mind the first weeks are focused on adopting the system and by day 30 – 45 we'll begin to focus on optimizing to continue to get the most out of your ERP.
The outline above shows only the tip of the iceberg as there are dozens of subtasks and work items to consider at every turn. An ERP implementation process involves numerous key stages and tasks that require both client and vendor cooperation.
Having an experienced cloud ERP solution partner will guide you through a seemingly overwhelming process ensures a successful implementation.
Choosing the Right ERP Partner
The best ERP partners are aware of the most common challenges and work with you to navigate the twists and turns of the implementation and customization process. The right partner will not only be an expert in your chosen software, but they will listen to your current challenges, help you understand the root cause, and work with you to create a sustainable, long-term solution.
You want a partner who is an integral part of your team and that is well versed in multiple ERPs on the market. They can help you select the best solution to take your company to the next level.
In a previous article, we discussed the various implementation options. While working with a partner may seem more expensive upfront than independent contractors, doing it yourself, or ERP publishers' professional services teams, partners like Concentrus have proven to get implementations right the first time. Going live is not the goal, going live effectively is the goal.
Typical rates from cloud ERP partners range from $175 - $225 per hour, for U.S. based resources. Occasionally rates can be higher with some of the bigger name partners. Contractors may offer lower rates and many offer great service. I've personally met many great contractors and if you find one, keep them close. For an ERP implementation, you must consider their availability and how many other projects they are working on. Ask questions in terms of their priority, workload, and backup resources in a worst-case scenario.
Be cautious of flat rate implementations, which tend to be done by users who have never actually used the system to run a business. They follow a series of templates and in reality, you are doing most of the implementation yourself. ERPs are meant to be tailored to your business, not the other way around.
Grow Your Business with Concentrus
Concentrus is a full ERP service provider for NetSuite and Acumatica. We are different from your average ERP provider because we've been in your shoes before. We understand how frustrating it can be finding a partner who will really listen and help you get to where you need to be.
We focus on helping our clients get the right systems, people, and processes in place to be successful. We focus on your goals and objectives rather than an arbitrary schedule. Your success is our success.
Let us know what you think of this article! If you have any questions or would like to seek more information as to how we plan cloud ERP projects, reach out to us at any time.
About Us
Concentrus  is a leading provider of innovative cloud-based enterprise resource planning (ERP) solutions, including NetSuite. Our team of NetSuite experts offers a range of services, including NetSuite price analysis, NetSuite training, and NetSuite integration services. Our goal is to help businesses of all sizes maximize their investment in NetSuite by providing expert NetSuite cost optimization and implementation strategies. With years of experience as a NetSuite partner, our NetSuite administrators and NetSuite consultants are well equipped to help businesses of all sizes with their NetSuite consulting needs. Whether you're looking for a NetSuite consultant to help with your NetSuite implementation or you need ongoing NetSuite support, Concentrus is here to help.
Read About Our Implementation Methodology
Want more NetSuite Tips and Tricks? Check out our Short & 'Suite videos