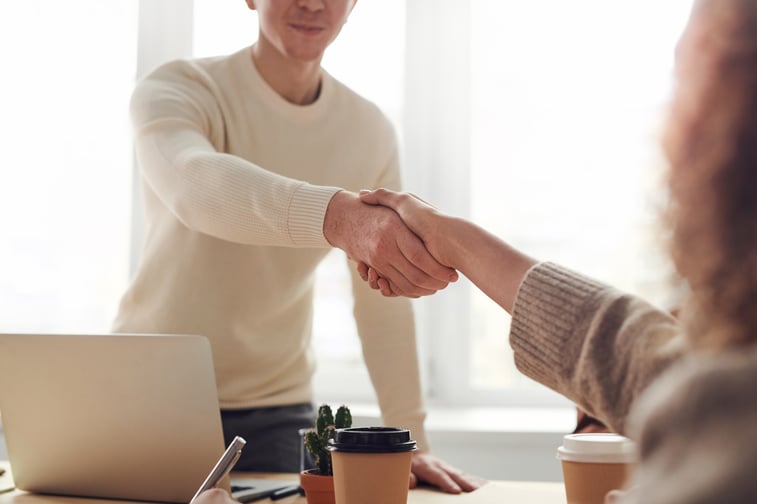 In this article, we speak with Vincent Huang, owner and CEO of VHA, a wireless cell phone distribution company that has been in business for over 20 years. Here, he discusses all the technical, financial, and strategic considerations he had to make before switching from a client-server / on-premise ERP to one based in the cloud.
Outgrowing a Basic Accounting Software
Every company is different, but the decision to upgrade an ERP typically comes from a business leader's perspective. And when it comes to the investment of money and time involved in an implementation, that really only happens when things aren't working in a way that's strategic for the organization.
As a growing business, we needed a solution that could keep up with our growth. We needed something that was flexible enough to support all our needs and provide us with the insights we needed to make smart decisions.
Our distribution company has been around for 21 years—and during those first few years we did whatever we could to manage inventory and our finances using other solutions as well as Peachtree, a basic accounting software that is similar to QuickBooks.
And then very soon as we grew, we needed something that can track inventory in a more sophisticated way.
Making the Switch From an On-Premise ERP to a Cloud-Based ERP to Propel Business Growth
We started out with MAS 200, which was a client-server ERP. That worked fine, even as we added more warehouses. It just worked, and frankly, jumping onto NetSuite was significantly more expensive. We did that about 11 years ago.
I think the main reason we didn't want to switch from MAS 200 at the time was because it was a purchase instead of software as service. So, I didn't have to renew our subscription fee every year. Whereas with the SaaS model, I do have to pay for subscription every year. That being said, I'm happy I made the switch. Following the implementation of NetSuite, I was able to build my business on a much more solid, scalable, and dependable platform.
Using NetSuite for All-of-Business Visibility
I've heard that other client-server ERP systems are great, but given their on-premise nature, their connectivity with cloud-based solutions are not seamless. Whereas running a cloud-based ERP—things just work together naturally and more natively than I expected. So that's why I said this is really much more of a strategic decision because the cost is higher. So, when a business leader looks at where the business is going, they must ask, do my existing systems propel my business growth? That's where one will decide whether it's worth it or not.
Seamless Connectivity with Third Party Software
When we were using Peachtree, I remember how challenging it was for us to bring our customer and inventory data together. It involved hours and hours of stitching all the siloed data together. It was traumatic work.
With a cloud-based ERP, it can integrate seamlessly and even with popular CRM solutions like SalesForce. This is great for sales staff because the platform displays customer and their inventory data all in one view. As a business leader, I kept thinking how I can grow a business lean, while dealing with increased volume and keeping costs low. In my experience, a basic accounting software on a client-server ERP solution did not suffice especially as we were growing at 15%, 20% a year.
Running a Business On a True Cloud ERP Solution
When people talk about cloud solutions, they're not always talking about the same thing. A lot of times, they'll say they have a cloud-based solution, but when you look into it, it's not really the case. For example, one company may have different pieces of software for different parts of their business that are all put together to form a "cloud-based" solution—but not all of those pieces were designed as cloud-based software from the start, unlike NetSuite or Acumatica. They're hybrid solutions or simply spun up on a public cloud.
Using NetSuite to Prevent Internal Security Risks
One of the things we love about the ERP solution we chose is that it has an audit trail feature to prevent internal theft. Most basic accounting systems aren't built with one, so it's not something you can easily add on. We remember one of the companies I worked for a long time ago, where a staff member in the accounting team created a vendor that was his own and they started either selling us something or shipping him something and essentially stealing from the company. We were able to quickly identify it and take action, there was no way of hiding it.
What's great about using ERP is that beyond the efficiency and ability to make numbers match up, it can prevent any type of internal theft—and let's be honest: It's hard enough to keep track of all the vendors you work with as it is!
Making the Right ERP Choice for Your Business
At the end of the day, it was a big decision for us to move to a cloud-based ERP solution. In terms of cost, it was tempting to keep using our legacy ERP solution since it fared better than a subscription-based service.
Nonetheless, as a strategic leader, I must think about the company's long-term growth goals and decide from the top-down which direction to take - including what ERP solution I need to grow my business.
Grow Your Business with Concentrus 
Concentrus is a full ERP service provider for NetSuite and Acumatica. We are different from your average ERP provider because we've been in your shoes before. We understand how frustrating it can be finding a partner who will really listen and help you get to where you need to be.   
We focus on helping our clients get the right systems, people, and processes in place to be successful. We focus on your goals and objectives rather than an arbitrary schedule. Your success is our success.  
Let us know what you think of this article! If you have any questions or would like to seek more information as to how we plan cloud ERP projects, reach out to us at any time. 
About Us
Concentrus is a complete NetSuite solutions provider that guides organizations through how to use NetSuite to reach highly focused business goals and objectives. We provide NetSuite implementation, developer, integration, and customization services to ensure that you have a long-term solution that is tailored to fit your systems, people, and processes.
Read About Our Implementation Methodology
Want more NetSuite Tips and Tricks? Check out our Short & 'Suite videos