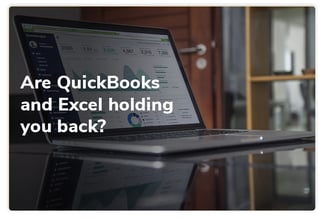 After long internal discussions and a restructuring of your budget for the new year, you've made it – your company has finally decided to begin its search for a long-term ERP solution. Congrats!

As you embark on this journey, don't let those three letters intimidate you. Many companies have been in your shoes before and have benefited from their decision to implement a new system. Companies that are in a hyper-growth stage miss out on the benefits of a "Future-Proof" ERP solution and tend to forget that their archaic processes may actually be costing them money.

The growing demand to switch over to the cloud has not slowed down in today's market as many businesses are continuing to innovate and change. Rapid change can come at a price if your current systems are not up to speed with your ever-changing processes. That's why it's important to remember that when you're choosing the right ERP solution for your company, you're consciously thinking about a solution that can keep pace with those changes while also helping you grow.

There are many ERP providers that exist in today's market, but how many of them are truly offering a "Future-Proof" solution?

Here are a five must-haves to look out for when searching for a "Future-Proof" ERP solution:
SCALABILITY IS A MUST:
You've decided to make this switch because your current systems are holding you back. You've pushed your current processes to their limits, and they are no longer keeping up with your vision. Your business is now shifting to make its operations more flexible. Flexibility will not only prevent you from becoming stagnant, but will help you quickly pivot into new markets, whether that be with new product or service lines. The beauty of a true cloud solution is that they're made to be scalable. They were inherently built to take on changing regulations (e.g. ASC 606), stray away from a "one size fits all" approach, create more functionality tailored to address new processes and ensure that upgrades are frequent and seamless.
2. ACCESSIBILITY

FROM ANYWHERE, ANYTIME IS A MUST:
Having real-time data and access to your numbers has become more important than ever. The COVID-19 pandemic has helped more companies realize how important flexibility is when it comes to remote work. In order to keep your business running from anywhere, at any time, you need to be able to pull reports in real-time while also having control and insights over approvals, demand, procurement, CSAT, budgets, utilization rates and more. Manual reconciliations and spreadsheets are no longer acceptable and can be costly.
3. MUST BE

VERSATILE

ACROSS ALL INDUSTRIES:
From software companies to manufacturers, a "Future-Proof" ERP solution must be able to address industry specific needs without its infrastructure needing to be rebuilt. It must be able to provide a company with adaptable workflows, industry specific dashboards and process driven analytics. Restructuring a limited solution to fit the unique processes that exist in every industry will be costly, time consuming and unreliable. If IT involvement is required to rebuild or heavily customize your system to make it fit your industry, you have now eliminated the possibility of upgrading or extending your processes.
4. MUST PLAY NICE WITH OTHERS:
Companies that run on a "Future-Proof" ERP system know that their ERP solution has now become the core of their business. But sometimes, companies require the use of additional software solutions to address other aspects of their business that are not native to an ERP solution. Additional solutions include either a Field Management Solution for service-based companies or a Warehouse Management System for product-based companies. Having a "Future-Proof" system with an Open API and the ability to integrate other solutions — such as the two listed above — is extremely important. ERP solutions that allow for "plug & play" make it easy on the customer to seek other cloud solutions while maintaining the legitimacy of a core solution.
5. SUPPORT OPTIONS MUST ALLOW FOR FLEXIBILITY
Having the ability to seek support, consulting, and optimization providers from a large ecosystem outside of in-house services is a necessity. ERP systems that limit their customers to in-house offerings without allowing them to have access to a larger web of outside experts prevent companies from getting more out of their systems and force them to stick to their limited practices. By having a "Future-Proof" ERP that embraces the open ecosystem culture, you can seek expertise from a limitless network, which will help you find the perfect solution to accommodate your unique business needs.
Now that we were able to break it down for you, are you ready to take the leap? Contact Concentrus today to discuss your ERP needs. We are here at your service!
About Us
Concentrus is a complete NetSuite solutions provider that guides organizations through how to use NetSuite to reach highly focused business goals and objectives. We provide NetSuite implementation, developer, integration, and customization services to ensure that you have a long-term solution that is tailored to fit your systems, people, and processes.
Read About Our Implementation Methodology
Want more NetSuite Tips and Tricks? Check out our Short & 'Suite videos