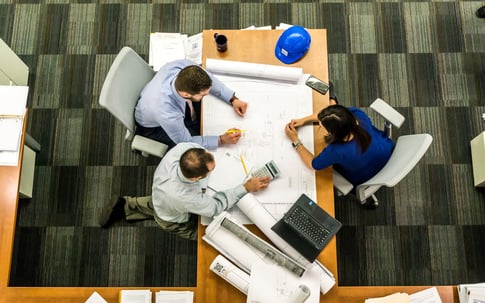 In the rapidly evolving construction industry, efficient project management and cost control are crucial for success. To meet these demands, contractors are turning to Acumatica, a powerful cloud-based Enterprise Resource Planning (ERP) software tailored specifically for the construction sector. Acumatica's role-based system, customizable dashboards, and seamless integration provide contractors with the tools they need to streamline their operations, manage projects from start to finish, and optimize profitability. In this article, we'll explore how Acumatica empowers construction companies to achieve their goals while saving time and resources.
The Role-Based System
Acumatica operates on a role-based system, allowing users to assign roles to employees based on their responsibilities. This approach ensures that each user only has access to the information relevant to their job, keeping sensitive data secure. For instance, financials, gross profits, and customer information can be controlled, limiting access to authorized personnel. Moreover, Acumatica allows companies to grant customers access to specific data, such as sales or support cases, fostering transparency and collaboration.
Multi-Tenant System
Unlike some other software solutions, Acumatica boasts a multi-tenant system, enabling multiple subsidiaries of an organization to function under one centralized platform. This arrangement simplifies data management, enhances collaboration, and facilitates intercompany transactions while maintaining individual roles and permissions for each subsidiary. Whether a contractor operates as a single company or manages multiple subsidiaries, Acumatica offers flexibility and scalability.
Customizable Dashboards
Acumatica's user-friendly dashboards are customizable and tailored to the individual needs of each user. These dashboards provide a snapshot of critical information, allowing users to monitor essential metrics at a glance. With easy drag-and-drop functionality, employees can design dashboards that display data relevant to their tasks, making it simple to track project progress, financials, and other key performance indicators. These customizable dashboards minimize the need to navigate through various menus, enabling users to efficiently manage daily tasks.
Project Management Made Easy
Acumatica's comprehensive project management tools streamline the entire project lifecycle. From initial project quotes to change orders and final billing, the software automates processes and ensures data accuracy. Project managers can track project progress, view cost analysis, and manage resources efficiently. Additionally, daily field reports provide real-time updates on project activities, offering executives and stakeholders a high-level overview of each project's status.
Seamless Billing and Payments
Acumatica simplifies the billing process, offering various billing rules and automation options. Contractors can choose to bill on-demand, based on milestones, or in other predefined intervals. Invoices can be easily generated, reviewed, and approved within the system. Acumatica also integrates with payment processors, allowing clients to pay through convenient online portals, resulting in faster payment processing and improved cash flow.
Acumatica's cloud-based ERP software is a game-changer for the construction industry. With its role-based system, customizable dashboards, and seamless integration, contractors can efficiently manage projects, control costs, and enhance profitability. By leveraging Acumatica's powerful features, construction companies can stay ahead in a competitive market, focusing on growth and delivering successful projects while saving time and resources. Embracing Acumatica means taking a significant step towards modernizing and optimizing construction operations for a bright and prosperous future.
If you're ready to revolutionize your construction business with Acumatica, get in touch with our expert team at Concentrus. Our dedicated consultants are eager to answer any questions you may have and guide you through the implementation process. Contact us today to take the first step towards streamlining your operations and achieving exceptional results!
About Us
Concentrus is a leading provider of innovative cloud-based enterprise resource planning (ERP) solutions, including NetSuite. Our team of NetSuite experts offers a range of services, including NetSuite price analysis, NetSuite training, and NetSuite integration services.
Our goal is to help businesses of all sizes maximize their investment in NetSuite by providing expert NetSuite cost optimization and implementation strategies. With years of experience as a NetSuite partner, our NetSuite administrators and NetSuite consultants are well equipped to help businesses of all sizes with their NetSuite consulting needs.
Whether you're looking for a NetSuite consultant to help with your NetSuite implementation or you need ongoing NetSuite support, Concentrus is here to help.
Read About Our Implementation Methodology
Want more NetSuite Tips and Tricks? Check out our Short & 'Suite videos