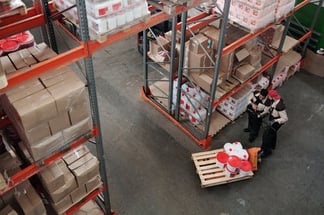 For distributors across the world, the warehouse is the most critical component of the supply chain. Sometimes a warehouse is solely look at a place where storage is kept, but that storage is revenue. Having a way to efficiently and effectively move product in and out of your warehouse is key to ensuring your company is running at its max potential.
Here are 5 ways NetSuite's WMS can help your improve warehouse operations:
Support Growth Without Increasing Space or Staff:
Sometimes there is a misconception that more demand means you need to hire more or find a larger space. Although this may be a need at some point during your company's lifetime, the issue may more than likely be due to inefficient warehouse operations. Time spent on processing inventory can create confusion and make a business owner think he needs to hire more, when in reality, the issue can be solved by streamlining operations. NetSuite's WMS help monitor product quantities by using barcodes to track products helping eliminate the need for excel and manual processes.
Faster Order Turnaround Times:
When orders come in, they need to be able to leave the warehouse as quickly as possible. Trying to accomplish this using manual processes can lead to human error, decrease accuracy which would cause delays in fulfillment. By adopting a tool like NetSuite WMS solution, you can eliminate those bottlenecks in your current operations giving you the ability to offer same day shipping and delivery leading to increased revenue.
Increase Inventory Alerts:
When it comes to eliminating the chance for disruptions in the supply chain, it is best to always be proactive rather than reactive. Having NetSuite manage your POs, sales orders and transfer orders gives the system an opportunity to also notify you with alerts. Hence, reducing risk by being notified ahead of time and getting in front of a potential issue rather than behind.
Real-time Inventory Visibility:
One of the biggest issues product-based companies run into is knowing what items they have in stock, how many and where they're located. By having everything centralized in NetSuite, it allows you to make adjustments and meet changes that come with demand.
Mobile Capabilities:
When things are moving fast, having mobile capabilities within a warehouse allows you to have full inventory control while managing your orders and warehouse operations giving you the efficiency you need to maximize your companies potential.
Contact Concentrus today to discuss your ERP needs. We are here at your service!
About Us
Concentrus is a complete NetSuite solutions provider that guides organizations through how to use NetSuite to reach highly focused business goals and objectives. We provide NetSuite implementation, developer, integration, and customization services to ensure that you have a long-term solution that is tailored to fit your systems, people, and processes.
Read About Our Implementation Methodology
Want more NetSuite Tips and Tricks? Check out our Short & 'Suite videos