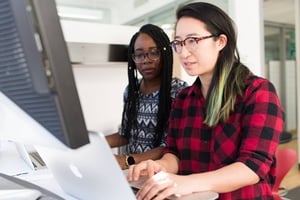 Retailers large and small around the world choose NetSuite as their Retail Management Solution because it has everything you need to run a successful retail business in the cloud.
But with so many different retail solutions on the market, what puts NetSuite above other comparable solutions?
You get all the benefits of a proven cloud-based enterprise resource planning (ERP) system – adaptability, flexibility and scalability.


It connects to your POS.


You can use either a built in ecommerce solution (SuiteCommerce) or integrate seamlessly with any of the larger ecommerce solutions – your choice!


Because you can run every piece of your business from a single, centralized location, you can extensive real-time reports and get a full, 360 degree view of your business.


NetSuite is the #1 global cloud provider of ERP and Financial Management – so you know you have a strong back office system that is pandemic-proof and will allow your team to work from home when needed.


NetSuite has one of the strongest inventory management systems according to Capterra.


It grows with you. There's a reason that NetSuite has retailers of all sizes – because it grows as you grow. That means that 5 or 10 years down the line, you will not have to go through the same software selection process you're doing now.


It's a cloud-based software so you don't have to worry about IT maintenance and upgrade costs like you do with on-premise solutions.


Another great benefit of having a cloud solution is that you can pull information anytime, anywhere, on any device, securely. That means that you can look at your company information and make better, faster decisions – something that is very valuable in an extremely changeable industry like retail.


It's an omnichannel solution – so you can reach your current and potential customers how and where they want to be reached and provide a streamlined, unified shopping experience across multiple channels.


It offers unmatched customer insights so that you can create a personalized experience for every single customer. It helps you promote loyalty and a streamlined experience without additional resources.
These are just a few reasons that our retail clients choose NetSuite. The bottom line is NetSuite is a customizable cloud-based solution that is extremely easy to tailor to your unique business needs – something that retailers around the world value.
Want to see for yourself? Schedule a demo with one of our retail experts to see a tailored demonstration of NetSuite as it relates to your business. Who knows? You might even add a few more line items to this list after seeing what a powerful Retail Management tool it really is.