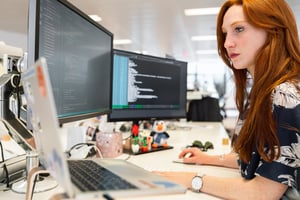 Retailers need to be agile so that they can adapt to rapidly changing markets and scale at the right time. COVID-19 has taken its toll on the retail industry, making it harder for the startups to survive.
That's why it's imperative to have the right business management solution in place to help you pivot quickly during times of uncertainty and take advantage of growth opportunities as they come.
Here are just a few reasons it's important for retail startups to have a back office system that is fully integrated with their ecommerce platform:
No manual processes so that you can focus your time on selling better products and providing a higher level of customer service
Faster, more accurate reporting
Not subject to human error
Seamless customer experience
Accurate inventory counts displayed on your ecommerce
Simplified order fulfillment
Automated processes
Real-time information
360 degree view of your business with real-time data
Easy accounting reconciliation
Improved business planning with complete data insights
Handle a higher volume of orders because you do not have to pass information back and forth between systems.
You get the most out of both your ecommerce investment and your back office system investment when they are seamlessly integrated. In fact, investing in a solution that has BOTH in one will save you a lot of headache in the future. That way you will never have to worry about connection issues when one or the other upgrades and you will never have to risk a hiccup in your business operations.
NetSuite is a cloud-based enterprise resource planning (ERP) solution that is proven to help retailers scale, pivot during times of crisis, and future-proof their organization. And the best part is, it is an entirely customizable solution that allows you to take your business any direction you want. NetSuite does have its own ecommerce, SuiteCommerce. However, if you decide you like another solution better such as Magento, Shopify, or BigCommerce, NetSuite has the infrastructure in place to allow you to seamlessly integrate with those ecommerce platforms as if it were a native NetSuite application.
Contact us today to talk to a retail expert about your business requirements and how we can build a tailored solution for your retail business to help you adapt quickly to market changes and scale when you are ready.