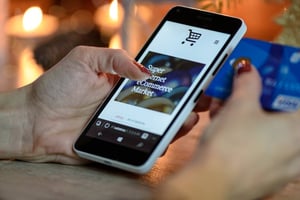 Ecommerce is a huge part of being successful in the retail industry, so unlike other companies, you need to find the right balance between a stellar ecommerce and a seamless back office system.
Luckily with NetSuite you can have both because:
If you're using any of the best standalone ecommerce platforms – Magento, Shopify, BigCommerce, etc. – NetSuite has easily integrate with them so that you can still run your entire retail business from a single, centralized location.


If you are NOT currently using an ecommerce platform and what to create your own webstore, NetSuite also has a built in ecommerce option called SuiteCommerce that also has all the features and functionality you need to be a successful retailer.


Because of the first 2 points, running your retail business on NetSuite makes it so that you can easily scale with your ecommerce – meaning that you will not being going through ecommerce or back office system selections 5 years down the road.


NetSuite also connects with your POS so but your brick and mortar store and your webstore can be run from a single location.


NetSuite's strong inventory management and order fulfillment system can help you provide a better customer experience from your ecommerce. Your customers know exactly what's available and what they are getting from you at all times.


Connecting NetSuite with your ecommerce helps you get more out of your ecommerce investment because you can easily pull data collected and pivot your business when needed.


Connecting the two makes reconciliation much easier on your accounting department.
Want to see how NetSuite interacts with your ecommerce of choice? Talk to one of our retail experts today to schedule a tailored demo. Our team members will talk to you about your current challenges and your business goals to ensure that we are showing you the most ideal solution for your business needs.