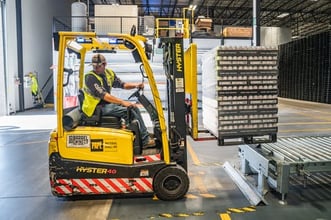 Measuring warehouse productivity is very important. It is a measurement of how well you manage this conflict, together with factors like on-time delivery and warehouse utilization. Here are the top warehouse metrics for measuring success:
Order Picking Accuracy (percent by order): This metric shows how accurately warehouse employees pick products for orders. Order picking accuracy can drop with multi-part orders, where the employee must pick products from multiple bins. Incorrect order picking could lead to increased labor costs, inaccurate inventory counts, delayed shipments and ultimately results decreased customer satisfaction. Example calculation- Orders picked correctly / Total orders picked



Average Warehouse Capacity Used: The rate of capacity utilization is an important data. If a company is only using 15% of its warehouse capacity, that's an issue. It means the warehouse is paying for the rent and upkeep of unproductive space. This may seem like an easy-to-spot problem, but with multiple sites and changing seasonal inventories, it can be difficult to measure accurately without the right WMS and SOPs. The average capacity used over a certain period of time - this is a key space utilization KPI. Example calculation- Average capacity used / Average capacity available.


Peak Warehouse Capacity Used: The amount of warehouse capacity used during designed peak seasons. Peak warehouse capacity used is a target, a basis for doing better. If the number was 80% last year, then maybe this year, it could be 85%. Peak capacity is another KPI for tracking how well a warehouse uses its space during its busiest times. Example calculation- Peak capacity used / Capacity available


On-time Shipments: Shipments reaching customers on-time is a critical success metric for warehouses. It's important on its own, because it reflects if the warehouse doing its job right. Today's consumer is largely brand agnostic and concerned with getting the product they want in the quickest and cheapest way possible. The late shipment delivery could cause customer service calls and complaints. They cause package tracking and other wastes of time. Ultimately, late shipments can damage your brand and cause customers to defect. Example calculation- Number of orders delivered on time/Total number of orders shipped


Inventory Count Accuracy by Location: This is another issue that is more important than it looks. The inventory count accuracy indicates how frequently one can go to that location and find that the physical count matches the system. If there are fewer items in a bin than the system says there should be, that might indicate theft or unreported damage. The results of miscounted inventory include unforeseen stockouts and fulfillment problems that negatively customer attitudes. Understanding total inventory available is important but equally important is how that inventory is distributed across multiple locations so that orders are routed to the proper location for fulfillment and out of stocks are not incurred. Example calculation. The sum of the number of locations containing an error / The total number of locations counted
Strong warehouse productivity metrics arise out of good management overall, but also by means of WMS (Warehouse Management System). This is especially true for business with extensive product catalogs and high rates of inventory turnover. WMS contribute to tight measurement and control of warehouse operations. We work with many distribution businesses on the implementation of Netsuite and related WMS for distribution and warehouse management. This solution enables you to measure the five key warehouse productivity metrics described above, along with many others. If you want to learn more about how Netsuite and WMS can help your distribution business, contact Concentrus today to discuss your needs.
About Us
Concentrus is a complete NetSuite solutions provider that guides organizations through how to use NetSuite to reach highly focused business goals and objectives. We provide NetSuite implementation, developer, integration, and customization services to ensure that you have a long-term solution that is tailored to fit your systems, people, and processes.
Read About Our Implementation Methodology
Want more NetSuite Tips and Tricks? Check out our Short & 'Suite videos